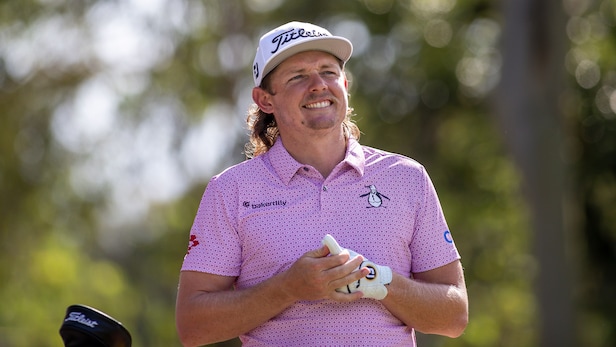 BRISBANE, Australia — Cameron Smith has conceded he may have to travel to the far corners of Asia in 2024 to keep his dreams of playing golf in next summer's Olympics in Paris alive.
When Australian star Smith joined LIV in the fall of 2022, he was ranked No. 2 in the World and the reigning Open champion with six-time PGA Tour winner to his credit. Now, he's 18th—and only after a runner-up the previous week in the Asian Tour's Hong Kong Open.
Smith has performed admirably on his new tour and at the majors in 2023. He won LIVs events in London and Bedminster and finished second on its season-long points list. Smith also recorded top-10 finishes at the PGA Championship (T-9) ant Oak Hill and the U.S. Open (fourth) at LACC this year.
But it may count for little if he doesn't perform well in the 2024 majors, likely the only tournaments where he'll play where he can earn ranking points. The Olympics will automatically take the top 15 golfers on the OWGR to Paris, with a maximum of four per country. Outside the top 15, two players per country can be selected up to filling the 60-player field.
As it stands on the rankings, Australia's team would be Smith (18) and Jason Day (21). But as his ranking continues to drop, Smith could be overtaken by Day and possibly Cameron Davis (44) or Min Woo Lee (45). Both those Australians play on the PGA Tour and have a much easier path to improve their rankings. Smith, who played at the 2021 Olympics in Tokyo alongside Marc Leishman, desperately wants to compete in the Olympics again. The cut off for qualifying is June 17 for the men's competition, the Monday after the end of the U.S. Open.
"I definitely want to be there, mate, 100 percent," the 30-year-old said at this week's Australian PGA Championship at Royal Queensland in Brisbane. "I know the criteria, I don't know if that can change, but I've got these couple of events here [the Australian PGA and the Australian Open, which are co-sanctioned by the DP World Tour and therefore receive world ranking points] and probably more looks again in the [2024] majors, so hopefully I can keep that ranking up and wear the (Australian national) coat of arms on the chest again, it's pretty special."
A solution, albeit a taxing one, is to add more Asian Tour events to his 2024 schedule in the lead up to the June. LIV Golf has invested $300 million into the Asian Tour, which does receive World Ranking points. In turn, the tour created the International Series, which typically has a handful of LIV players at each of its events.
"Yeah, I think I would," Smith said of adding Asian Tour events to his schedule. "But I think that's a kind of wait and see type of thing. Hopefully, like you said, these couple of events down here can do plenty for me and those majors can definitely lift it up a lot."