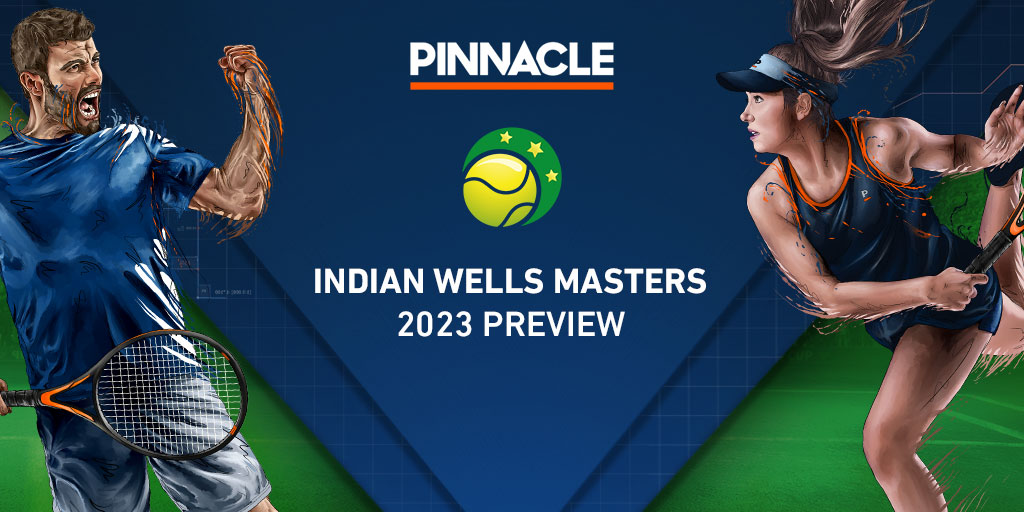 Following in-depth discussion with Charlie Dear and Dan Weston on Pinnacle's tennis podcast Advantage Bettors on Monday, the draw for Indian Wells has been made, and there's some fascinating dynamics to discuss further here.
Indian Wells Masters 2023: How will the conditions affect performance?
First of all, let's go over the likely conditions. Indian Wells has historically played very slow for a hard court, with service points won percentages and aces per game counts well below the ATP surface mean figures. This means that clay courters and return-oriented players could do better in this event than expected. Don't expect an out and out clay courter to reach the final, but they may well do some damage at big underdog prices in the early rounds.
In theory at least, these conditions aren't likely to be to the taste of tournament favourite Daniil Medvedev. He hasn't played this event that much in the past, and has a mediocre record when he has. Despite being clearly the best hard courter in the field, and having won three events on the bounce, he isn't a given to win this. In fact, following the draw, the outright market has seen him drift to +204 *[3.400] at the time of writing.
Medvedev has been drawn in quarter three, and it's surprising to see this negative market sentiment. There aren't many in that bracket who should be a huge test for him, so he should be a strong favourite against the players in that quarter. Stefanos Tsitsipas could await Medvedev in quarter four in a possible semi-final, but it's unlikely that he will be a major issue for the tournament favourite either.
Indian Wells Masters men's singles predictions: Who are the contenders?
Tsitsipas is the third favourite at +617 *[7.170], with Spanish phenom Carlos Alcaraz at +504 *[6.040]. Interestingly, the Greek has seen his odds shorten, and it's not clear why. There's a big clash ahead with Medvedev if the tournament goes the way many expect it will. Tsitsipas also has a really tough quarter four containing Andrey Rublev, Cameron Norrie, Frances Tiafoe, and Matteo Berrettini. Throw in some strong servers like Grigor Dimitrov, Denis Shapovalov, and Maxime Cressy, and there's potential for high variance matches in that bracket.  Considering these factors, Tsitsipas is far too short-priced. 
Top seed Alcaraz has returned to touring following his long-term injury in relatively positive fashion. After missing almost three months of tour events, he came back with a title in Buenos Aires, defeating Cameron Norrie in the final. However, the Brit got revenge on him the week after in the Rio de Janeiro title match. Alcaraz, particularly in Rio, didn't exhibit the dominance I would have expected from him on clay (he dropped three sets, and the straight set matches were also quite close), so it looks like he's still finding his way back to his best.
Having said that, the slow conditions are likely to be to Alcaraz's liking, and he will probably only really see Tommy Paul +3176 *[32.760] and Felix Auger-Aliassime +2118 *[22.180] as major threats in his top quarter. 

The outright market is pretty congested, with not much separating each player. Jannik Sinner +861 *[9.610] leads the next batch of contenders, and the Italian has a decent chance of getting through what looks to be a reasonable second quarter.  If he has recovered from the illness which caused him to withdraw from ATP Marseille, he looks to be the favourite in that bracket.
However, given the likely return-oriented conditions, other players at bigger prices such as Alex De Minaur +3704 *[38.040] and Holger Rune +1358 *[14.580],will fancy their chances in that bracket. Reigning champion Taylor Fritz +1590 *[16.900] will also have his supporters, while Cameron Norrie +2765 *[28.650] – the shock winner here in 2021 – has performed well on fairly unfamiliar clay. This should help him acclimatise better than the players travelling from Europe playing on indoor hard court. 
With seeds needing to win six matches for the title, it's going to require a real doggedness over the next 11 days, but the tournament looks to be wide open and there will be at least a dozen players who fancy their chances of glory in California.
Feel informed and primed to make your Indian Wells Masters 2023 predictions? Read Dan's WTA tournament preview and follow for all his insights on Twitter at @TennisRatings.

Watch the latest Advantage Bettors vodcast below: