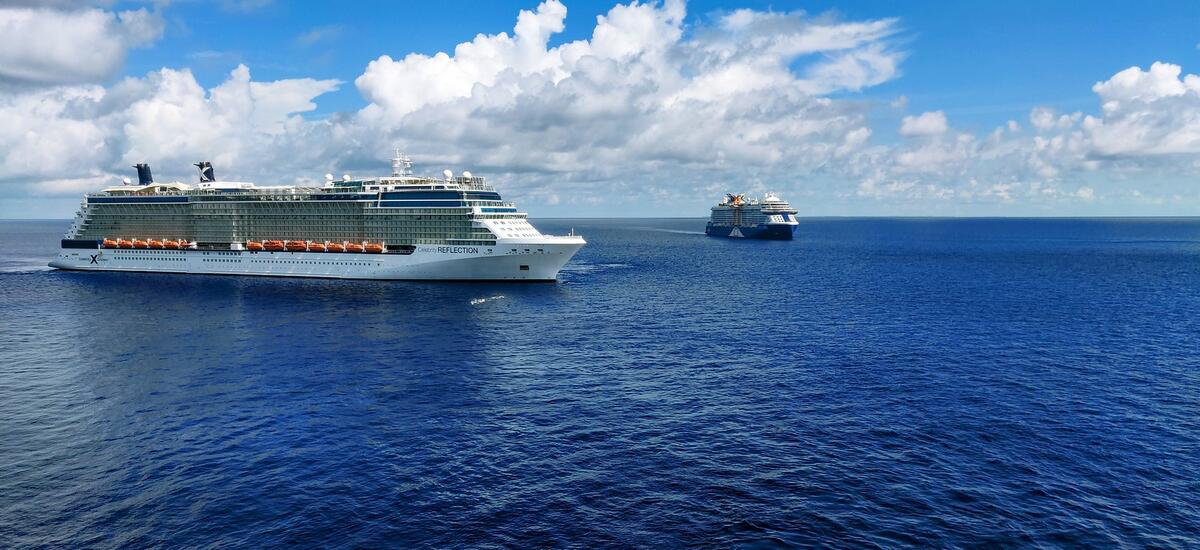 Celebrity Cruises is knowing for offering guests an upscale cruising experience to destinations across the world.  
Their fleet is comprised of 15 ships in 4 different classes, including 3 expedition vessels sailing to the Galapagos Islands. The majority of the ships fit within one of two classes, either Solstice or Edge. 
There are similarities and differences between these eight ships that make them unique in their own ways. Understanding what each Celebrity Cruises ship class, particularly Solstice and Edge Class, has to offer makes the decision of choosing a ship an easier process. 
Here is a breakdown between Solstice and Edge Class ships to help you pick which is the best fit for your next cruise vacation!
What are cruise ship classes?
Cruise ship classes group together similar ships. Each ship within the class has a common base (i.e., size, design, structure, and offerings) that separate them from other classes. Often, they are built around the same time as one another.
Within each class, there can be variations of features, restaurants, or activities that have been added or modified throughout the years. Therefore, ships within a class are often referred to as "sister ships." 
Celebrity Cruises' Solstice Class
With five operational ships, Celebrity Cruises' Solstice Class is the cruise line's largest class. The first ship, Celebrity Solstice, was launched in 2008 and was the first cruise ship to have a real glass lawn at sea, as well as offer a hot glass class onboard. The last ship in the class, Celebrity Reflection, debuted in 2012 and is the largest Solstice Class vessel. 
Celebrity Solstice (2008)
Gross tonnage: 122,000
Length: 1,041 feet
Width: 121 feet
Number of passengers (double occupancy): 2,852
Last renovated in 2021
Celebrity Equinox (2009)
Gross tonnage: 122,000
Length: 1,041 feet
Width: 121 feet
Number of passengers (double occupancy): 2,852
Last renovated in 2019
Celebrity Eclipse (2010)
Gross tonnage: 122,000
Length: 1,041 feet
Width: 121 feet
Number of passengers (double occupancy): 2,852
Celebrity Silhouette (2011)
Gross tonnage: 122,400
Length: 1,047 feet
Width: 121 feet
Number of passengers (double occupancy): 2,902
Last renovated in 2020
Celebrity Reflection (2012)
Gross tonnage: 126,000
Length: 1,047 feet
Width: 123 feet
Number of passengers (double occupancy): 3,046
Celebrity Cruises' Edge Class
The Edge Class is Celebrity Cruises' newest and most advanced class of ships. The first ship, Celebrity Edge, debuted in 2018 and followed by the Celebrity Apex in 2021 and Celebrity Beyond in 2022. A fourth ship, Celebrity Ascent, is expected to debut in December 2023. 
These ships are modern, stylish, and boast numerous revolutionary high-tech innovations, such as the multipurpose Magic Carpet that sticks out over the side of the ship. By day, it is a tender gateway that connects guests to ports of call, and by night, it is a trendy bar that's home to some of the best views at sea. 
In terms of gross tonnage, Edge Class ships are larger than Solstice Class ships. However, with the exception of Celebrity Beyond, they are about 40 feet shorter than the latter; Celebrity Beyond is the longest ship in Celebrity's fleet and stands out from her two younger sister ships. 
Celebrity Edge (2018)
Gross tonnage: 129,500
Length: 1,004 feet
Width: 128 feet
Number of passengers (double occupancy): 2,918
Celebrity Apex (2021)
Gross tonnage: 129,500
Length: 1,004 feet
Width: 128 feet
Number of passengers (double occupancy): 2,910
Celebrity Beyond (2022)
Gross tonnage: 140,600
Length: 1,073 feet
Width: 128 feet
Number of passengers (double occupancy): 3,260
Dining options
Solstice Class
Each Solstice Class ship has between ten and twelve dining options. Celebrity Equinox, Eclipse, and Solstice each have ten, while Celebrity Reflection and Silhouette have two more specialty restaurants than the others, bringing their dining venue total to twelve.  
All Solstice Class ships have the same six complimentary options:
Oceanview Café is the main buffet that serves breakfast, lunch, and dinner. 
Mast Grill is a relaxed, poolside joint that serves up burgers, hot dogs, french fries, and light refreshments in the afternoons.
The Spa Café features flavorful, healthy dishes like homemade energy bars and muffins, cereals, and acaí bowls. 
Each ship has a two-story main dining room where guests may dine each evening of their cruise and indulge in a three-course meal. The name of the main dining room varies by ship. Onboard Celebrity Eclipse, for instance, it is called the Moonlight Sonata Restaurant, while it's called Opus Restaurant on Celebrity Reflection.
Blu is the exclusive restaurant for guests staying in an AquaClass stateroom that highlights clean, healthy cuisine. 
Luminae is The Retreat's private restaurant where each menu is created by a Michelin-starred chef and is unavailable elsewhere on the ship. 
The primary difference when it comes to dining onboard Solstice Class ships are the available specialty restaurants. All five ships have Le Petit Chef, Murano, Tuscan Grille, and Sushi on Five. Celebrity Reflection and Silhouette have two other specialty venues that the other three Solstice Class ships don't: The Lawn Club Grill and The Porch. 
Edge Class
Like Solstice Class ships, Edge Class ships feature numerous complimentary dining venues, including Oceanview Café, Mast Grill, and The Spa Café. Where these ships stand out, however, is the main dining experience. Rather than offer one main dining room, there are four complimentary restaurants for guests to choose from each evening: 
Cyprus focuses on Mediterranean dishes
Normandie is the modern French restaurant
Cosmopolitan specializes in New American cuisine
Tuscan serves up global contemporary options with an emphasis on Southern Italian food
Eden Café is a new complimentary venue exclusive to Edge Class ships that offers a variety of morning beverages and bites, including steak and egg bagels, fruit bowls, pastries, salads, soups, paninis, and other sandwiches. 
Additionally, Blu is available for AquaClass guests and Luminae for those staying in The Retreat. 
When it comes to specialty dining, Celebrity reinvented the options on Edge Class ships, with the only venue onboard on Solstice and Edge Class ships is Le Petit Chef. Celebrity Edge and Ascent have seven specialty restaurants, while Beyond has eight: 
Fine Cut Steakhouse
Le Grand Bistro
Raw on 5
Le Petit Chef
Magic Carpet (Dinner on the Edge)
Rooftop Garden Grill
Eden Restaurant 
Le Boyage by Daniel Boulud (on Celebrity Beyond only)
Bars and lounges
Solstice Class
There is not much variation when it comes to the bars and lounges onboard Solstice Class ships; two ships have a wine cellar, while three feature a casual lounge that serves up comfort food and light bites. Each vessel has ten different options for guests to choose from:
Rendezvous Lounge
Martini Bar & Crush
World Class Bar
Café al Bacio & Gelateria
Passport Bar
Sky Observation Lounge
Pool & Mast Bar
Sunset Bar
The Retreat Lounge (called Michael's Club on non-revolutionized ships)
*Craft Social Bar (Celebrity Equinox and Silhouette)
*Cellar Masters (Celebrity Reflection, Solstice, and Eclipse)
Craft Social Bar serves over forty different beers, wines by the glass and bottle, cocktails, and à la carte food options. In comparison, Cellar Masters offers a large selection of international wines that have been handpicked by Celebrity sommeliers. 
Edge Class
Each Edge Class vessel has at least eleven bars and lounges, with more options available on Celebrity Apex and Beyond:
The Martini Bar
The Magic Carpet
The Retreat Lounge
The Retreat Pool Bar
Café Al Bacio
Il Secondo Bacio
Eden Bar
The Sunset Bar
The Pool Bar
The Casino Bar
The Club
Craft Social Bar (Celebrity Apex and Beyond)
World Class Bar (Celebrity Beyond)
Mast Bar (Celebrity Beyond)
World Class Bar is a Celebrity favorite that was brought back to Edge Class ships onboard Celebrity Beyond. It's available on all Solstice Class ships, as is the Martini Bar, Café Al Bacio, Pool Bar, and Sunset Bar. 
Accommodations
Solstice Class
Solstice Class ships have cabins for every type of traveler, including Studio, Interior, Ocean View, and Veranda staterooms, as well as Concierge Class and AquaClass staterooms, and the luxurious Retreat suites.  
The only Solstice Class ship, however, to feature solo cabins is Celebrity Silhouette. There are only four available, too. Each is a 103 square foot interior cabin. 
At 1,291 square feet with a 389 square foot veranda, the largest stateroom onboard Celebrity Equinox, Eclipse, Silhouette, and Solstice is The Retreat's Penthouse Suite. 
Celebrity Reflection, however, has the signature Reflection Suite, which is the biggest stateroom among any of the Solstice Class ships; it was the fleet's first-ever two-bedroom suite and is a whopping 1,636 square feet. Its veranda is smaller compared to other suites, though, and is only 193 square feet. 
Edge Class
Celebrity's Edge Class offers a variety of different cabins for guests to choose from: Studio, Interior, Ocean View, Panoramic Ocean View, Veranda (including Infinite Veranda and Deluxe Porthole Veranda), Concierge Class, and AquaClass staterooms, and, of course, The Retreat.
Infinite veranda staterooms are available exclusively on Edge Class ships, and according to Celebrity's website, they are 23% larger than Solstice Class veranda staterooms.
Folding doors separate the balcony portion of the cabin from the living space, and with the single push of a button, you can control whether the window at the end of the room (aka the balcony) is raised or lowered. Like regular balcony cabins, you will have additional seating located on the veranda to soak up ocean views. 
Deluxe Porthole Verandas differ from traditional veranda cabins, as they are partially enclosed — like an alcove — by the ship's exterior, which results in a slightly obstructed view. 
Edge Class ships also feature the most luxurious suites in the fleet, including the 1,892 square foot Iconic Suites.  
Overall, there's more of a variety of stateroom options, including the first-ever infinite verandas, on Edge ships. 
Read more: Celebrity Cruises Cabin Overview: What you need to know
Onboard amenities and entertainment
Solstice Class
Unique to Solstice Class ships is The Lawn Club, a 1/2 acre real grass lawn at sea. It's a great place to play outdoor games and listen to live music!
Additionally, you will find a spa, casino, one-of-a-kind stage productions, adults-only Solarium, food and beverage workshops, art galleries, youth programming, and shopping onboard every ship. Hot glass classes can be purchased for an additional fee on Celebrity Solstice, Equinox, and Eclipse. 
For guests staying in The Retreat, it is important to note that three Solstice Class ships do not have the private Retreat sundeck: Celebrity Eclipse, Reflection, and Solstice. Additionally, The Retreat Lounge is referred to as Michael's Club on these ships. 
Edge Class
Just like onboard Solstice ships, you'll find a spa and casino, art galleries, food and beverage workshops, adults-only Solarium, youth programming, and shopping. The entertainment, however, is upped with the exclusive Eden venue. During the day, it hosts cooking classes and wine tastings with master sommeliers. At night, you can find unique performances that mesh dance, music, and acrobatics.
In addition to Eden, each ship has one-of-a-kind performances in the theatre, including Rockumentary, Tree of Life, and Crystalize onboard Celebrity Apex; Elements, Stage Door, and Arte on Celebrity Beyond; and Kaleidoscope, A Hot Summer's Night Dream, and Colors of Life on Celebrity Edge.
Destinations
Celebrity Cruises is known for their destination-focused itineraries that sail to places like Alaska, Asia, Australia & the South Pacific, the Caribbean, Europe, and South America. Between now and mid-2025, here's where you can find Celebrity Solstice and Edge ships:
Solstice Class
Celebrity Solstice:
Mexican Rivera
Pacific Coastal 
Alaska
Hawaii
Australia and the South Pacific
Fiji
Vietnam and Thailand
Celebrity Equinox:
Bahamas and Caribbean
Mexico
Mediterranean
Italian Rivera and France
Spain and Portugal 
Greece, Turkey, and Malta
Patagonia and Argentina
Antarctica
Celebrity Eclipse:
Caribbean
Alaska
Argentina and Brazil
Chile
Pacific Coastal and Pacific Northwest
New Zealand
Great Barrier Reef
Mexican Rivera
Hawaii
Bermuda and Martha's Vineyard
Patagonia and Argentina
New England and Canada
Antarctica
Greenland & Iceland
Fiji and Tonga
Celebrity Silhouette:
Key West, Bahamas, and Caribbean
Israel and Egypt 
Spain, Portugal, and France
Canaries
Mediterranean
British Isles
Scotland
Norwegian Fjords
Azores & Bermuda
Scandinavia
Iceland
Ireland
Belgium and Netherlands
Celebrity Reflection:
Bermuda
Key West, Bahamas, and Caribbean
Greece 
Malta
Italian Rivera and France
Spain and Italy
Gibraltar
Edge Class
Celebrity Edge:
Caribbean
Italy, Spain, and France
Hawaii
Australia, Great Barrier Reef, and New Zealand
South Pacific 
Fiji and Vanuatu
Alaska
Bermuda
Portugal and Spain
Panama Canal
Tasmania
Celebrity Apex:
Caribbean
Portugal and Spain
Canaries
Malta
Greece, Italy, and France
Mediterranean 
Norwegian Fjords
Belgium and Netherlands
Scandinavia
Iceland and Scotland
Celebrity Beyond:
Caribbean and Bahamas
Panama Canal
Italy, Turkey, and Greece
Croatia and Montenegro
Spain and Portugal
Bermuda
Solstice vs Edge, which should you choose?
If you are planning a cruise vacation, both Celebrity Cruises' Solstice and Edge ships are great choices. Depending on your travel preferences, however, you may enjoy one class over the other. 
Edge Class ships have more–more to do, more to eat, and more to drink. There are more stateroom categories to choose from, new dining venues, and one-of-a-kind experiences onboard. Celebrity enhanced the best features from the other two classes to create an innovative and posh class of ships. 
Due to the class' size, however, Solstice ships have a greater variety of destinations. Between the five ships, they visit just about every part of the world! If you want to travel to a specific region, there's a good chance that a Solstice Class ship will be scheduled there in the foreseeable future. Plus, there's still plenty onboard to keep you entertained. And since these ships are older, they tend to be more affordable than sailings on the Edge Class. 
You can't go wrong with a Celebrity Cruise; it just comes down to what works best for you and your travel party!