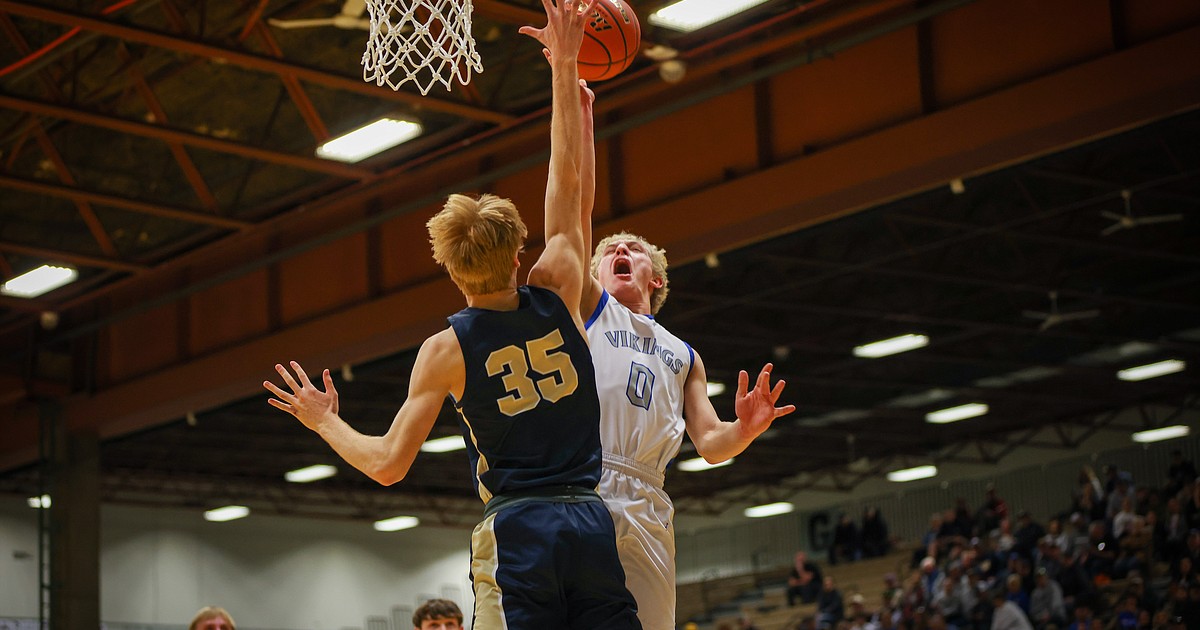 GREAT FALLS — The Bigfork Vikings held off a hungry Red Lodge team to win 55-48 in a game that featured 11 lead changes Thursday during the first round of the Class B State tournament in Great Falls.
Nick Walker finished with 14 points to pace the Vikings while chipping in seven rebounds.
It was a come-from-behind win for Bigfork who trailed 27-26 at the half while allowing Red Lodge to convert on 50 percent of their field goal attempts. In the second half, the Vikings defense bounced back by only allowing the Rams to make 33.3 percent of their shots.
Thomas Buchanan was the leading scorer for Red Lodge with 14 points. He snared nine rebounds for the Rams.
Bigfork shot 56 percent in the second half and Bryce Gilliard was second in scoring for the Vikings with 10 points.
Red Lodge 16 9 13 10 – 48
Bigfork 11 15 14 15 – 55
RED LODGE — Thomas Buchanan 14, Walker Boos 11, Owen Reynolds 11, Nic Morean 5, Jacob Stewart 3, Calvin Garmann 2, Landon Tomlin 2.
BIGFORK — Nick Walker 14, Bryce Gilliard 10, Jack Jensen 7, Isak Epperly 6, Landon Byerman 6, Eli Thorness 3.
Missoula Loyola 83, Lodge Grass 56
GREAT FALLS — Ethan Stack had a game-high 31 points to lead Missoula Loyola over Lodge Grass. Loyola led 53-27 at the half and 11 different players scored in the winning effort.
Lance LittleNest was the top scorer for Lodge Grass with nine.
Wolf Point 65, Columbus 62
GREAT FALLS — Wolf Point's Juliun Benson had 27 points as Wolfpoint held off Columbus. Hayden Stefferson dropped 22 points for Columbus and Mason Meier tallied 17 in the losing effort.
Malta 68, Lame Deer 49
GREAT FALLS — Stockton Oxarart finished with 16 points as Malta made a 40-22 lead hold up over Lame Deer. Malta had five total scorers in double figures with Bodhi Brenden, Treyton Wilke, Jared Eggebrecht, and Eli Hanson all cracking the plateau.
Kendall Russell paced Lame Deer's bucket getters with 14 points.