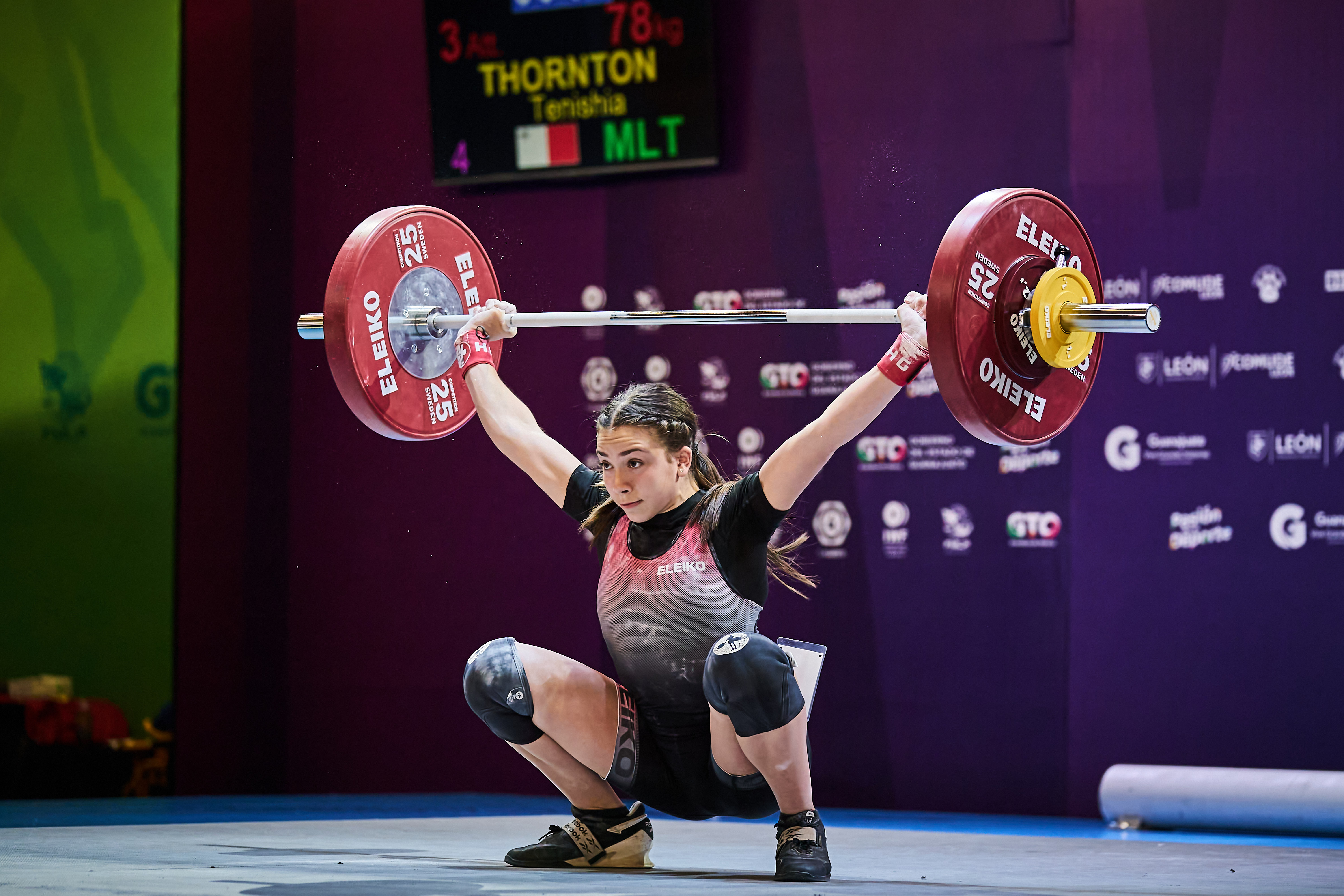 As the smallest country in the European Union and one of the tiniest nations in the world, Malta is not often in the news headlines. Sport is no exception to this rule. Until June 2022, the archipelago (located in the Mediterranean) hadn't produced any world champion in Olympic sports. In Leon, Mexico, at the IWF World Youth Championships, Tenishia Thornton (only 16 at the time) won the gold in the 55kg category, thus becoming a pioneer in Maltese history. She lifted a total of 178kg (78kg snatch and 100kg clean & jerk) and finished largely first (by a margin of 7kg), leading a group of 16 competitors in her weight category.
Tenishia was born on September 1, 2005, and is already one of the most recognisable faces in Malta. Last weekend, she was voted the Women's Youth Athlete of the Year 2022, and also won the People's Choice vote, in the 63rd edition of the SportMalta Awards, aimed at honouring the best athletes of the country. Her coach Jesmond Caruana, also President of the Maltese Weightlifting Federation, was consecrated as the Coach of the Year.
The right choice
It all started in 2017. "I was 12 years old. My father does CrossFit (he is not a professional) and from a very young age I used to go with him to the gym. He is a big inspiration for me, as I grew up surrounded by this sport. It was part of my childhood. My parents then understood that this was my passion and they contacted coach Caruana. He took me to a first session, and from then, I couldn't stop," recalls Tenishia. Surprisingly (or not…), the young talent didn't have to wait long to shine. "Only a month later, I had my first competition, and I did very promising results. My coach then told me: 'with only a month of training, these are quite encouraging performances!'". The event was a Maltese tournament, and for the record, the then 12-year-old Tenishia lifted 21 kg (snatch) and 30kg (clean & jerk). "I understood I had done the right choice! With the support of my family and my coach, I started training more and I kept improving the results. Moreover, I immediately loved the competition atmosphere and felt the necessary adrenaline to do always better".
Fast forward almost six years later and we now find Tenishia training eight times a week, under a personalised programme elaborated by her coach. On Mondays and Wednesdays, the gym sessions start early in the morning (before school) and continue in the afternoon, while the remaining days include only one evening session, after her high school obligations. Sunday is a rest day. "It's definitively a busy schedule, but when I see the results appearing, I think it's worth all the sacrifices," she confesses. At almost 18, the Maltese prodigy is now facing a dilemma: sport or university? "I am in an age group where I still can highly improve my results, so an exclusive focus on the sport seems to be the right choice for the moment. However, we had some meetings with the university management on how to conciliate studies and training. The feedback was highly positive. So, this is still a question mark," Tenishia admits. For the moment, the only clear topic in her mind, should high studies be considered, is the direction of those studies: "Coaching, physical education!".
"LA 2028 is more realistic for me"
Besides the world title in Mexico, the Maltese lifter also won the European continental youth gold medal and had the opportunity to compete at the IWF World (senior) Championships last December in Bogota (COL). In the 59kg category, she was 33rd (in a field of 52 athletes), lifting a total of 188kg (84/104). Less than one month ago, in a national event, she improved her Personal Best, which is now 190kg (85/105). "The Olympics? Of course! Paris 2024 or Los Angeles 2028? Los Angeles is more realistic. I am only 17, so doing better than senior athletes in 2023 is quite complicated. I will try my best for the Paris qualification. However, by the time of the Games in Los Angeles, I will have physically and mentally developed more and my results will for sure be even better and more consistent," she anticipates.
After her outstanding successes as a lifter, Tenishia is already a role model for the youth in her country. "As I am the first world champion from Malta in an Olympic sport, I received very positive and enthusiastic feedback from everyone – my family, my schoolmates, people in general, but also the media. They highly promoted my results and made sure my success was known. This had a very positive consequence: the sport is now more recognised (it was not very well-known before me…), and more young athletes are practising it. And most of them are women, so this is very important in terms of the future development of the sport. It's not a male-dominated sport anymore and it can be practised by both genders. There are now some really promising athletes, who can achieve prominent results in the future. I dare to think that I may have inspired some of these young athletes…" she humbly admits. Widely speaking, the 2022 youth world champion believes that women will have a very relevant role in the sport: "The word is spreading out and more people, especially women, are keen to learn the sport because it's an amazing sport. Promotion and awareness are being developed and this effort is giving results".
Mental struggle
Another very positive evolution relates to the reputation image of weightlifting, namely its main challenge in recent years: doping. The Maltese star is also quite optimistic: "This problem will get better because things have changed. More awareness has been put forward and I am very hopeful that these changes will only bring benefits to weightlifting. Many, many athletes lift clean and it's a pity that their sacrifices and their efforts are destroyed by a few that don't respect the rules. The majority of athletes strive to get better results in a clean way – and they do it! It's important to have this discussion. Athletes like me really believe that the sport should be practised on a fair basis".  
Despite her young age, Tenishia has a very mature vision of the future development of weightlifting. She is therefore keen on passing a "new image" of the sport she loves: "Although it is physically strenuous for your body, it doesn't harm your body, it's actually good. It helps you to mature and develop in so many aspects. Being only physically strong is not enough. The mental aspect of it is perhaps even more important. Throughout weightlifting, I have enormously developed my personality and character, as I try to constantly do better. This is a huge mental struggle. Weightlifting clearly makes you a more mature person!"
As a concrete example of this mindset, the Maltese champion explains how difficult is to remain in a bodyweight category. "When I must cut down some weight, this represents a lot of sacrifices for me. When you study and are stressed because of your exams, you tend to gain weight. I must do the opposite, so it's a kind of double sacrifice. And this requires a lot of mental effort," Tenishia admits.
"Never give up!"
In another challenging moment of her life, she had to overcome a knee injury in 2021. She was growing too fast (she is 1.73m/5'8'' tall) and the body couldn't manage this fast natural progression with the intense training in the gym. "It was a very difficult period for me. But again, with perseverance and a lot of work, I was again able to lift and compete. 2022 was indeed my first experience at the world level (we had competed in 2020, but virtually…). I felt I had the potential, but it was quite stressful after this injury. In the end, things went quite well…" Relatively popular in the social media environment, the 17-year-old wants her fans to retain one basic principle: "You must never give up! I am a concrete example of this rule: if you are determined, disciplined and patient, you'll manage it, you'll progress and get there".
Tenishia's short-term competitive programme includes two tournaments (in Malta and France) in the weeks to come, and then the European Championships in Yerevan (ARM), from April 15-23. "I am quite excited to take part in these competitions. I also look forward to improving my results and achieving more success for Malta. Even though we are such a small country we can show through sport our strength and determination," she concludes.
By Pedro Adrega, IWF Communications