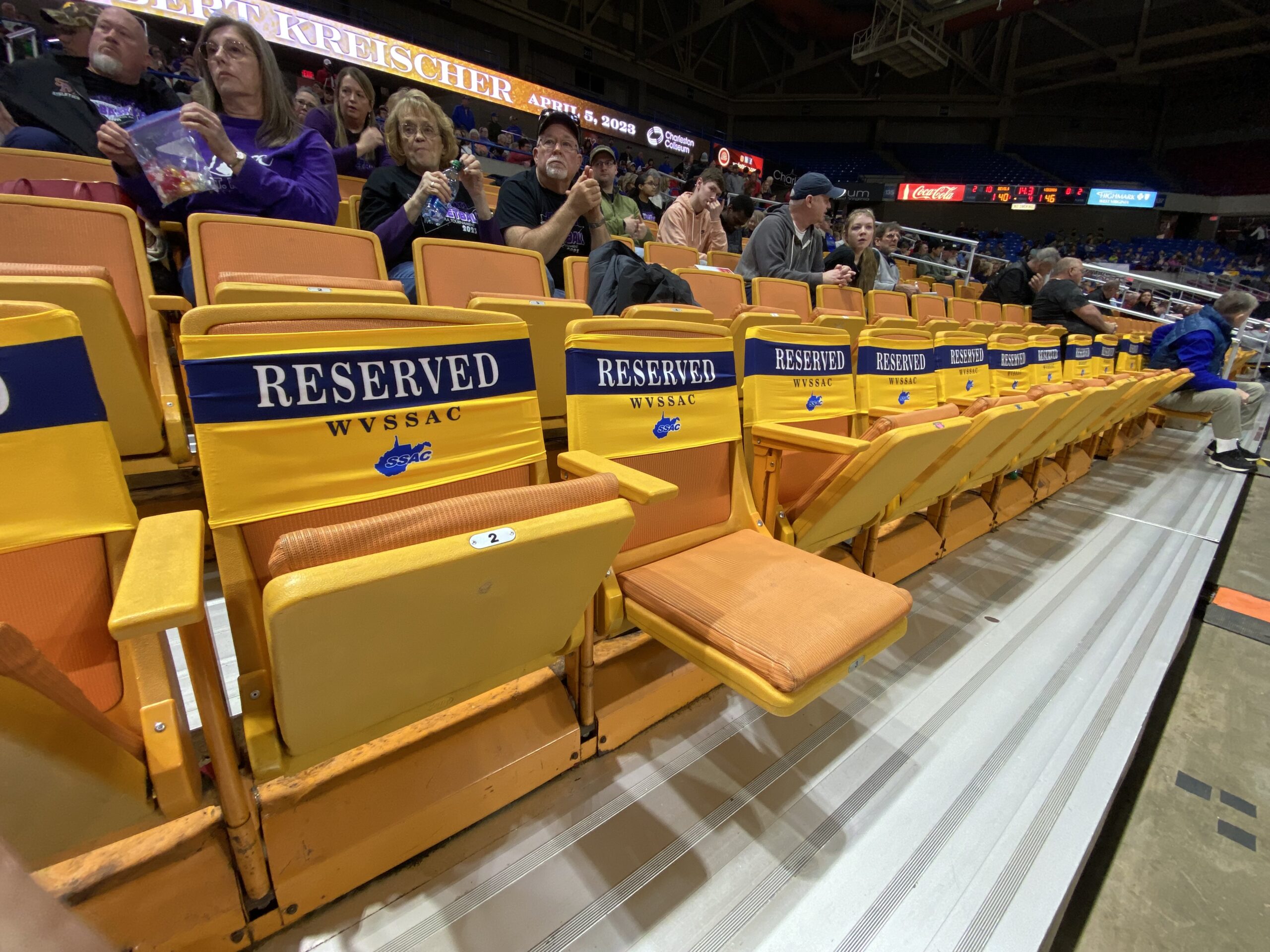 CHARLESTON, W.Va. — Hearts are heavy this week at the Girls State High School Basketball Tournament in Charleston. A reserved yellow seat behind the scorer's table sits empty.
That's where West Virginia Secondary Schools and Activities Commission (WVSSAC) Assistant Executive Director Greg Reed used to sit before his sudden death in January. It's the first state tournament since his passing.
"There's a big hole, not only physically, but emotionally also," WVSSAC Executive Director Bernie Dolan told MetroNews.
Reed died unexpectedly Jan. 11 in Parkersburg. He was 57.
Dolan said Reed enjoyed tournament week and all the talent that came to the Charleston Coliseum and Convention Center.
"He always loved the Girls Tournament. It was his baby for the last 8 years and certainly he put his mark on it," Dolan said of Reed's accomplishments to expand the event. "We've gone to four classes and he was the driver behind that."
Reed was named to the WVSSAC in Dec. 2015. He served behind the scenes with Dolan, along with Assistant Executive Directors Wayne Ryan and Cindy Daniel.
Daniel said she remembers little moments with Reed, especially during the day before teams started playing.
"We were setting up the room for the officials meeting on Monday night. That was something Greg and I always did. He was so meticulous about where he wanted everything, had to be in a certain place, so it really brought back a lot of memories," she said. "He's up there smiling at me right now saying make sure you get everything straight."
Ryan said he knew Reed in college. Reed played basketball for Glenville State College for head coach Gary Nottingham and graduated in 1987. Ryan said he and Reed coached against each other while Reed was at Nicholas County High School and Ryan was at Summers County High School.
"The sport of basketball was very important to Greg Reed. He leaves a legacy on this sport and it's certainly strange to be here without him," Ryan said.
Referees also knew Reed well. John Badgley told MetroNews Reed advocated for more diversity among tournament officials.
"He was good in developing younger officials in our association and across the state. We are so short on officials and Greg was a big proponent of getting both younger men and women into the sport," he said.
One of the things that many remember about Reed is that he was always willing to listen. Dolan said schools, coaches and parents would call and he'd spend a lot of time with them, making sure they felt like they were fully listened to.
"Whether you were calling to complain or just coming up to talk about the tournament, he was always there to lend an ear and give you his opinion," Dolan said.
Jason Buckley, another ref, also knew Reed as a coach. He said he was crushed when he heard the news of his death.
"Devestated. It was terrible. I had just seen him at the football championships," Buckley said.
Reed's death happened around the same time of another passing within the WVSSAC.
"What was tough was we had just lost Pat Fragile who was our clinician about a month prior to Greg's passing, so we had a lot of transition this year," Badgley said.
The WVSSAC has honored both Reed and Fragile during each game this week,.
"We have a tribute in the program. We're going to give a scholarship this and next week at both tournaments in his honor and we have an announcement that will be read," Ryan said.
Buckley said the refs were also presented with something special.
"All of the officials got a whistle with an engraving on the side of it in honor of Greg Reed," he said. "It's just a little different this year."
The girls tournament wraps up Saturday. The first of the boys' games start Tuesday.